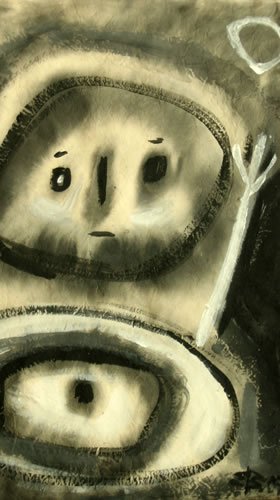 To Speak of the Things of the Soul through one's own Form

(Kandinsky)
Text by Hubert Gaisbauer
Many of Barbara Buttinger-Förster`s pictures seem disconcerting at first glance; they stand with archaic force in the way of the observer – particularly the male observer!
Death and life. Day and night. Lap of the mother. Vulva, l' Origine du Monde, Wounds. Dark nourishing mothers - bleeding in the womb.
Then the masks, magicians and shadowy figures, often with raised arms and outspread fingers. Are they waving? Are they calling for help? Are they warning?
A childlike scheme and a cephalopod emerging from the light, staring into the dark….
And then the couples: Shadow man and light woman, heartprayers, tender and of the night.
Then the woman and the animal – innocent and related to one another, long before the fall – or already after the redemption?
The observer – he (yes, he!) needs time to win trust by looking before the unsettled condition begins to transform. What appears to reject, attracts. Then, on their part, the pictures cautiously lose their speechlessness. With this the observer leaves the fear of not being able to understand behind. Or wrong, he becomes a friend of the works; they greet each other in the morning. "Speak with us", they say, "We hear you. You can't say or do anything wrong. We know you and you also have known us for a long time. Remember!"
…
Normally when trying to write or speak about pictures, one tries to classify, to find origin, type and category. This is seen to be a serious way of approaching the theme. Barbara Buttinger-Förster's works rightly resist this at first, but they allow associations: to the "Bridge" expressionists, to Nolde, Alechinsky, yes, also to Basquiat and Dubuffet. The term "Art Brut" (the raw art) puts itself forward which, since it is mostly used as an imprecise term for fringe art, should be avoided for the moment. Barbara Buttinger-Förster's paintings and drawings are certainly spontaneous and eruptive, but not only. They belong to the niveau of contemporary painting (if legitimization is necessary). To this it is the right of each artist, "to formulate the things as if the forerunner did not exist, also when I know that a thousand forerunners are against me" (Jean Dubuffet).
…
Barbara Buttinger-Förster's paintings tell no stories, they speak about conditions. They are both look and mirror. They sacrifice all three-dimensionality. Everything is foreground; nothing is spacial, but space is everything. Uterus, amniotic fluid. Dampened light. Cave. Red is the colour which one thinks to see more often than it is really there – heart-red, blood-red, life-red. Vitality: without rules. We find raw, uncut sacramentalism and severe inwardness instead of some soft surreal esoteric feigning female spirituality.
…
Barbara Buttinger-Förster's painting is not orientated on picture effect and at first also does not want to make an effect. What (perhaps then later) works is that necessity to stand ruthlessly opposite the self, ruthlessly opposite the observer. It disconcerts until it is recognized as the pre-consciousness of that which goes "through all people" and "all times". True art is and remains collective memory of all which was and all which will be, drawing threads from the texture of the whole history of humanity. It is a timeless "pathos formula" (Aby Warburg) for pain, death and prayer, for love, sacrifice and dance. It has its lineage from the cave paintings of prehistoric times, through the prayerful postures in the early Christian catacombs to the spectral black self-portraits of Jean-Michel Basquiat. It is the premonition of the shocking and attracting numinous, of all that which brings fear, but also of all that which gives hope. That is the imposition of true art.
So it may be that one stands before true art and says, "I can do this too!" Put in the position of having to prove this, one must recognize how wide off the mark one actually is. Art demands a journey to the inner world which Kandinsky, Dubuffet and many other artists ask of themselves as prerequisite.
One must perish (go to the ground) in order to know in entirety (from the ground) and not to be lost. (Ingeborg Bachmann).
The painter, philosopher and poet, Jean-Michel Atlan (1913 – 1960), one of the most important modern inspirers of the forties and fifties in the twentieth century formulated his avowal regarding the art of indigenous peoples in a conversation shortly before his death: "I have not learnt painting from the museums, but rather from the shamans".